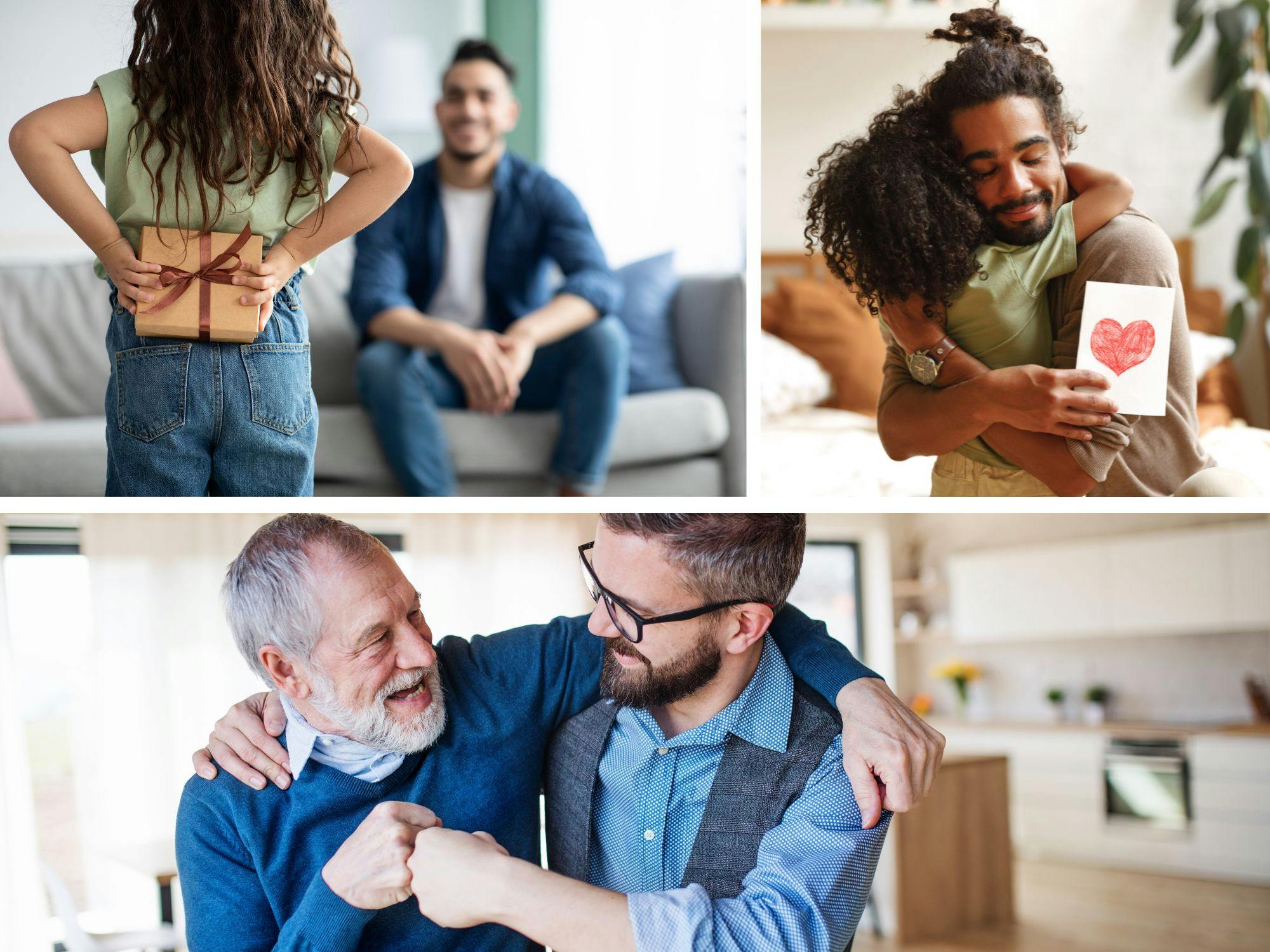 7 Fathers Day Marketing Ideas for TikTok & Instagram Reels
Jun 4, 2023
Father's Day is fast approaching – just two weeks left on the calendar! The time of year when we show our appreciation for the father figures in our lives with gifts, gatherings, and heartfelt messages. As a brand, how can you ensure your product stands out in a market flooded with Father's Day promotions? One of the most powerful ways to shine is through properly leveraging social media, particularly TikTok and Instagram Reels. Engaging, bite-sized video content is a perfect way to get quick sales and grow your brand. Especially during a time when people are looking for the right product right now.
Did you know that TikTok has surpassed Google as the search engine for Gen Z. It's even surpassed Facebook as the most popular social media website since 2021.
What does this mean for your brand?
TikTok has transformed into a modern day search engine. People are increasingly using these platforms to discover and connect with brands. Gen Z is more likely to search for "fathers day gifts" in the TikTok search bar - versus opening their browser and going to a traditional search engine like Google or Bing.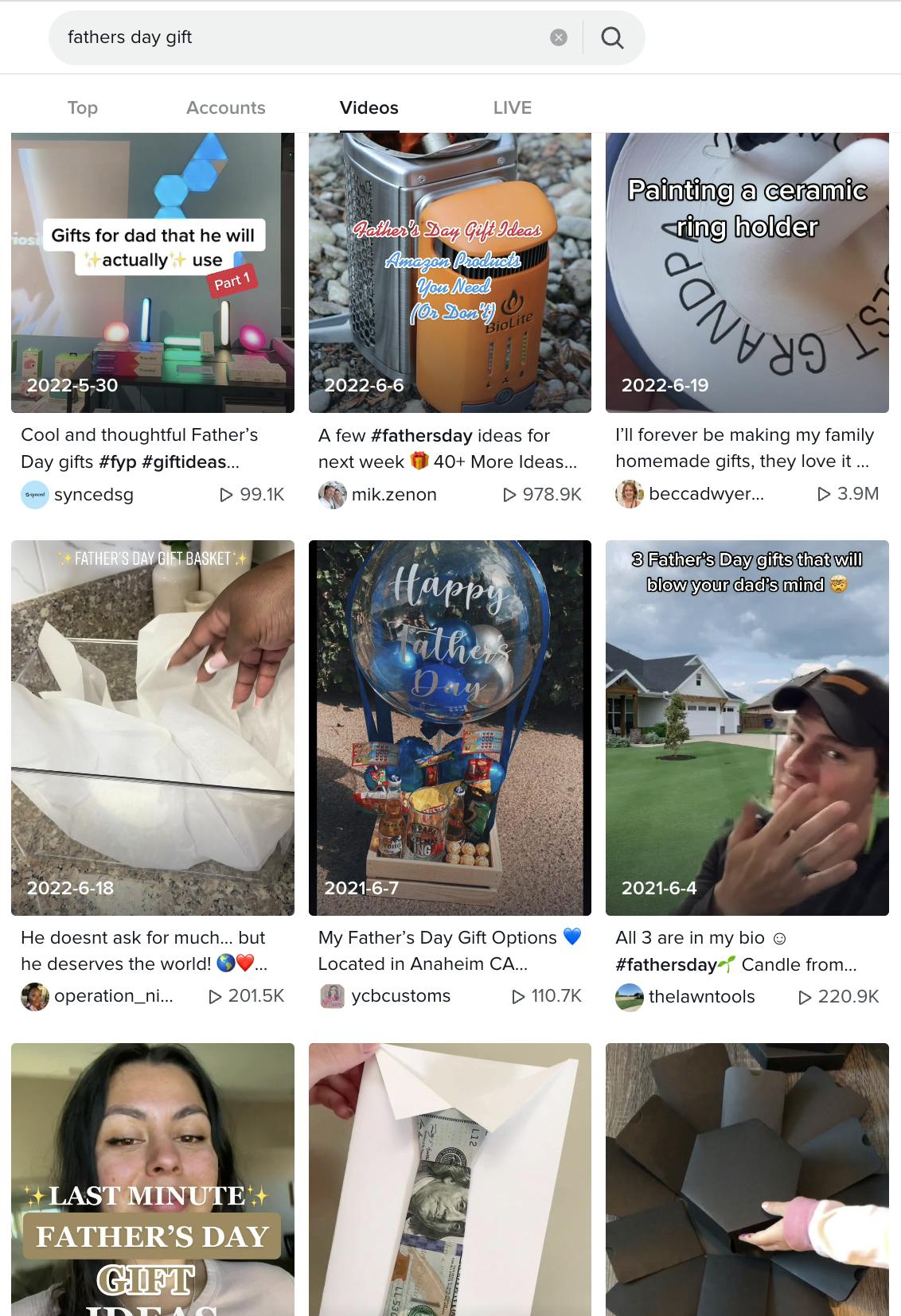 Fathers Day TikTok & Instagram Reel Video Ideas
In order to create content that converts, it's essential to understand your audience and what appeals to them. Unique, authentic, and emotional content often strikes a chord with viewers - resulting in higher engagement and conversion rates. Here are seven creative TikTok and Instagram Reel video ideas to capture the spirit of Father's Day, showcase your product, and engage with your audience:
1. Why My Dad's the Best
A video where the creator lists the top reasons why their dad is the best. You can feature your product in a way that complements one of the reasons.
2. Dad's Gift Reaction Video
Creators can film their father's reaction to receiving your product as a Father's Day gift. This could range from touching, funny, or downright hilarious responses.
3. DIY Dad Hacks
Creators can share a unique 'dad hack' involving your product. This could be a fun, quirky way their father uses your product that makes life easier or more enjoyable.
You can also go the opposite direction. Lots of viral products on TikTok and Instagram are 'lifehack' products. An alternative idea is to show your dad struggling with something - then feature your lifehack product and show how much easier it was with the product and film an authentic reaction.
4. Gift Guessing Game
If your product has a unique shape, this is fun engaging content that will keep the viewers watching (We all know the TikTok and Instagram reels algorithms love this). Creators film their dad guessing his Father's Day gift, giving humorous or outlandish suggestions before revealing your product.
If your product is small or doesn't have much shape, the creator could also wrap random stuff around the gift to make it look like something it isn't to illicit incorrect responses and reveal the final gift in the end.
5. A Day with Dad
Creators document snippets of a typical day with their father, highlighting how your product integrates into their daily life. If you sell coffee beans, for example, you could highlight starting the day with your dad sipping on a freshly roasted cup of your coffee; subtly featuring your brand.
6. Class UGC Product Testimonial Video
The classic UGC style video. Product testimonials are simple and effective. There's a reason these continue to be king of marketing content. Easy and quick to produce. You can create a high volume of product testimonials and each one gives you a higher chance of your video going viral through the algorithms.
7. Father's Day Makeover
If your product is related to clothing, grooming, or home décor, the creator can surprise their dad with a mini-makeover using your product and film his reaction.
Get More Ideas!
We strongly recommend searching common keywords on TikTok like "fathers day gifts" or "fathers day 2023". You'll be amazed at how many of the top videos are direct content for brands/products or user generated content videos that subtly promote a product in the content. If you aren't using TikTok and Instagram Reels to promote your videos this year you could be losing out on a massive, highly engaged audience that could drive substantial increases in brand awareness, product interest, and the ultimate goal, revenue.
Some More Great Video Ideas for Inspiration 💡
We searched TikTok for some cool fathers day gift video ideas to give you some
Fathers Day Gift Assembly TikTok Video
This is a great engaging video that keeps the user watching until the end. We loved this video idea and it didn't feel too much like an ad. It's presented by a brand that has a ton of interesting and unique products.
Classic Product Demo TikTok Video
The go-to video for products. This video highlighted a custom made tape measure for dads with a special message. As of writing this, the video has almost a million views! 😳. One thing we noticed by clicking the brands page is that they posted other similar-style videos featuring the same product with a fraction of those views. Thats the power of frequent posting on TikTok. Post 10 times, post 20 times, even 30 times. It only takes one video to go viral to blow up your sales!
LifeHack Product TikTok Video
This one is absolutely amazing! This video right now has done over 25 million views! 😱 those are some serious numbers. Notice they posted on 5-13 for fathers day and it went viral around that time. Another great example that consistent posting can have huge results.
Many of the video ideas you might have for Father's Day are not exclusive to this occasion. You can indeed apply the same strategies and styles typically used in your regular marketing videos, but with a distinct Father's Day flavor. Holidays are an amazing opportunity to make more videos and content and pull in more audience interest.