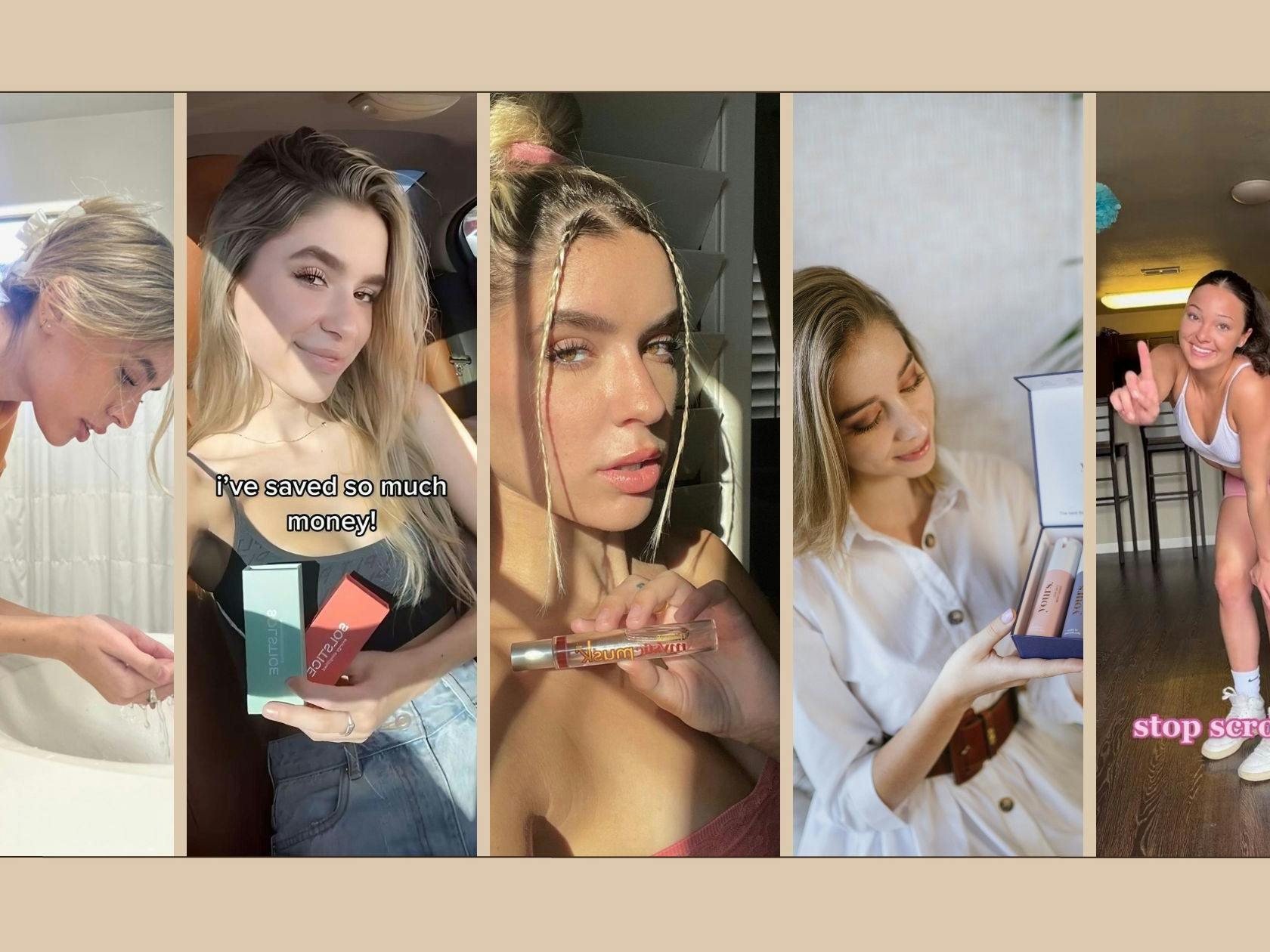 UGC Creator Portfolio Guide + Examples
Jun 8, 2023
UGC (user-generated content) is the latest trend in digital marketing. In an era where almost every creator has access to a 4k camera and cheap studio lighting, the demand for UGC has exploded. Before, brands would spend thousands of dollars on production level videos. Now, they can get the same quality content from a creator at home. But the most exciting thing about this is - now creators can make money instead of huge creative & marketing studios.
In this guide, we're gonna to explore some topics such as crafting your portfolio, what to include in your portfolio, and we'll also highlight some inspiring portfolio from existing UGC creators. Let's dive in and discover the recipe for creating a portfolio that stands out to brands.
The Rise of User-Generated Content
Everyone has a smartphone in the palm of their hand these days. And people are getting better and better at creating content. There are various tools, like capcut - which is created by TikTok, and other video editing platforms that make it super easy to make high quality videos in a fraction of the time it used to.
Brand's use UGC because consumers trust it. Results from a US shopper study by TurnTo Networks show that most shoppers (90 percent) say UGC influences their decisions to make a purchase. This beats all other forms of marketing - including search engines (87 percent) and promotional emails (79 percent).
The trust and authenticity that user-generated content provides to users is invaluable to brands.
Companies Love User-Generated Content
UGC has become a powerhouse strategy across social media platforms, with almost every top brand now harnessing its enormous potential.  This strategy has become so wildly effective that many brands have transitioned to only using UGC as the primary content source for their social media pages. Let's dive into some examples of brands that have utilized this strategy: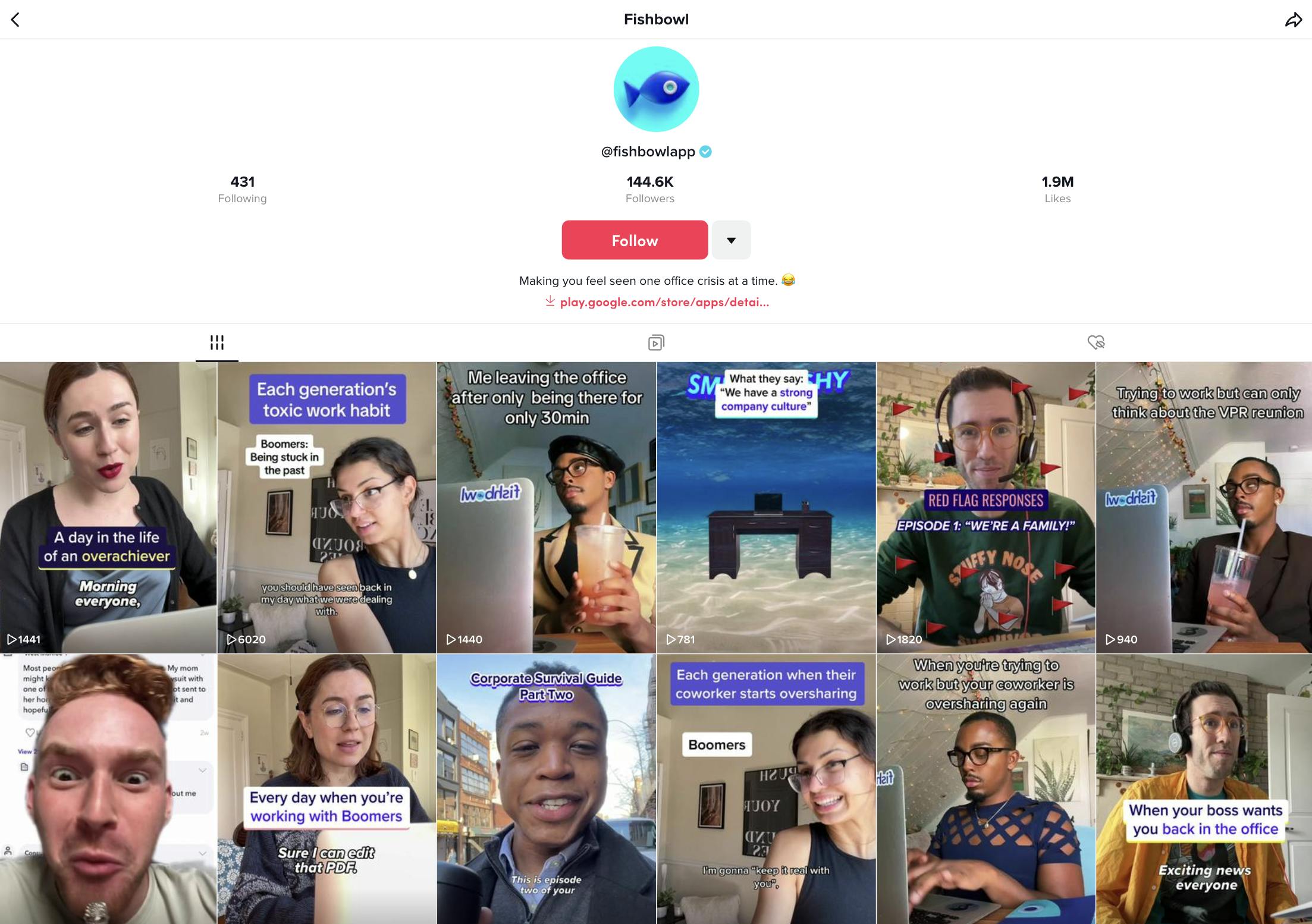 Fishbowl App - A rapidly growing platform that provides a space for professionals to connect and engage in meaningful discussions. Some of these discussions include benefits, salary, work culture, and more. Their TikTok account is a perfect example of a brand utilizing user-generated content to its fullest. Their content provides many humorous takes on the work from home culture, is 100% creator driven, which creates a sense of community among its users and viewers.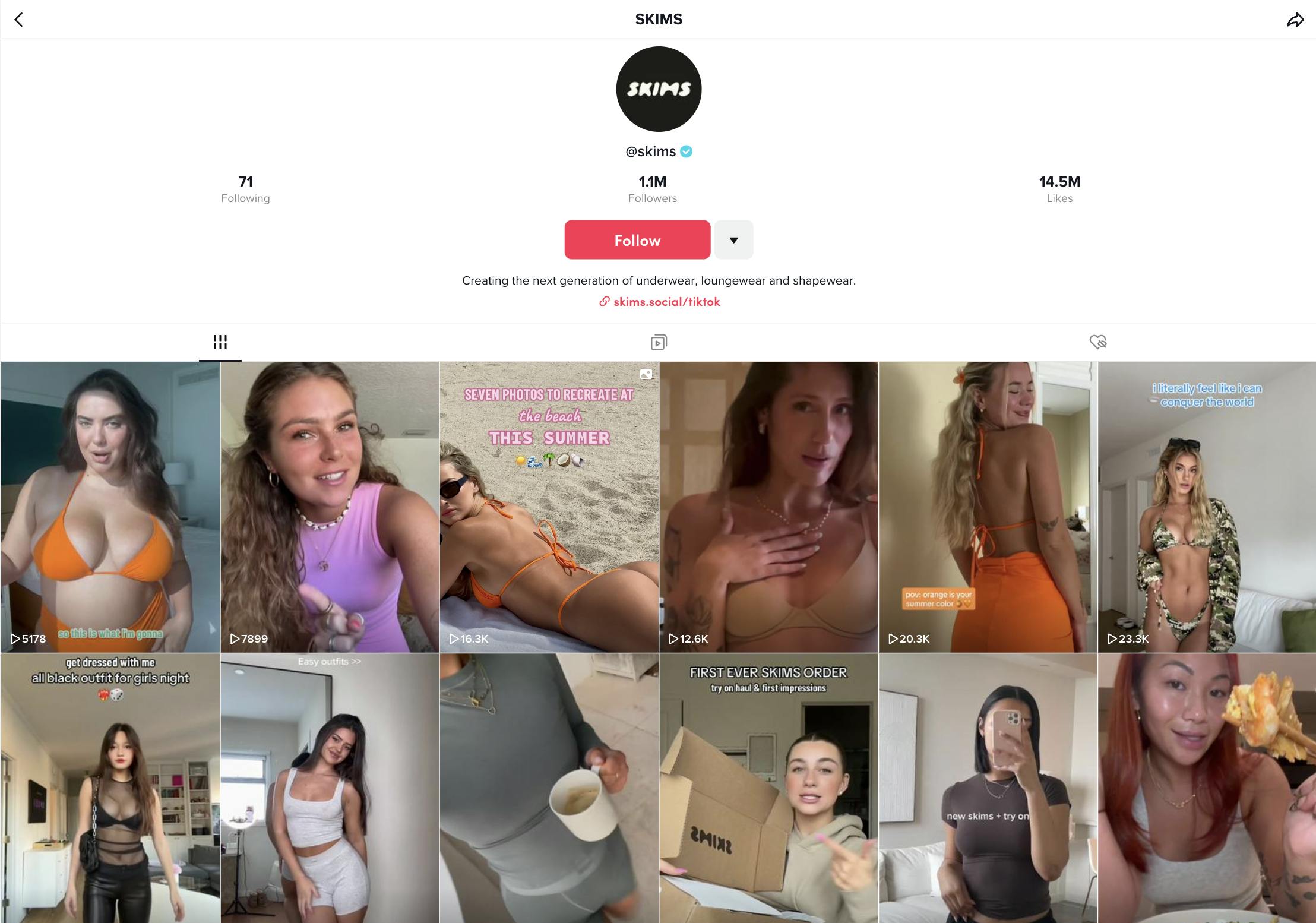 Skims - The highly sought-after shapewear brand founded by none other than Kim Kardashian, uses a similar strategy. Their TikTok page is an authentic gallery of customers and creators trying on their Skims clothing. If there's one family that understands marketing, it's the Kardashians. One of the largest household names and expert marketers using UGC almost exclusively speaks volumes to the power of this strategy.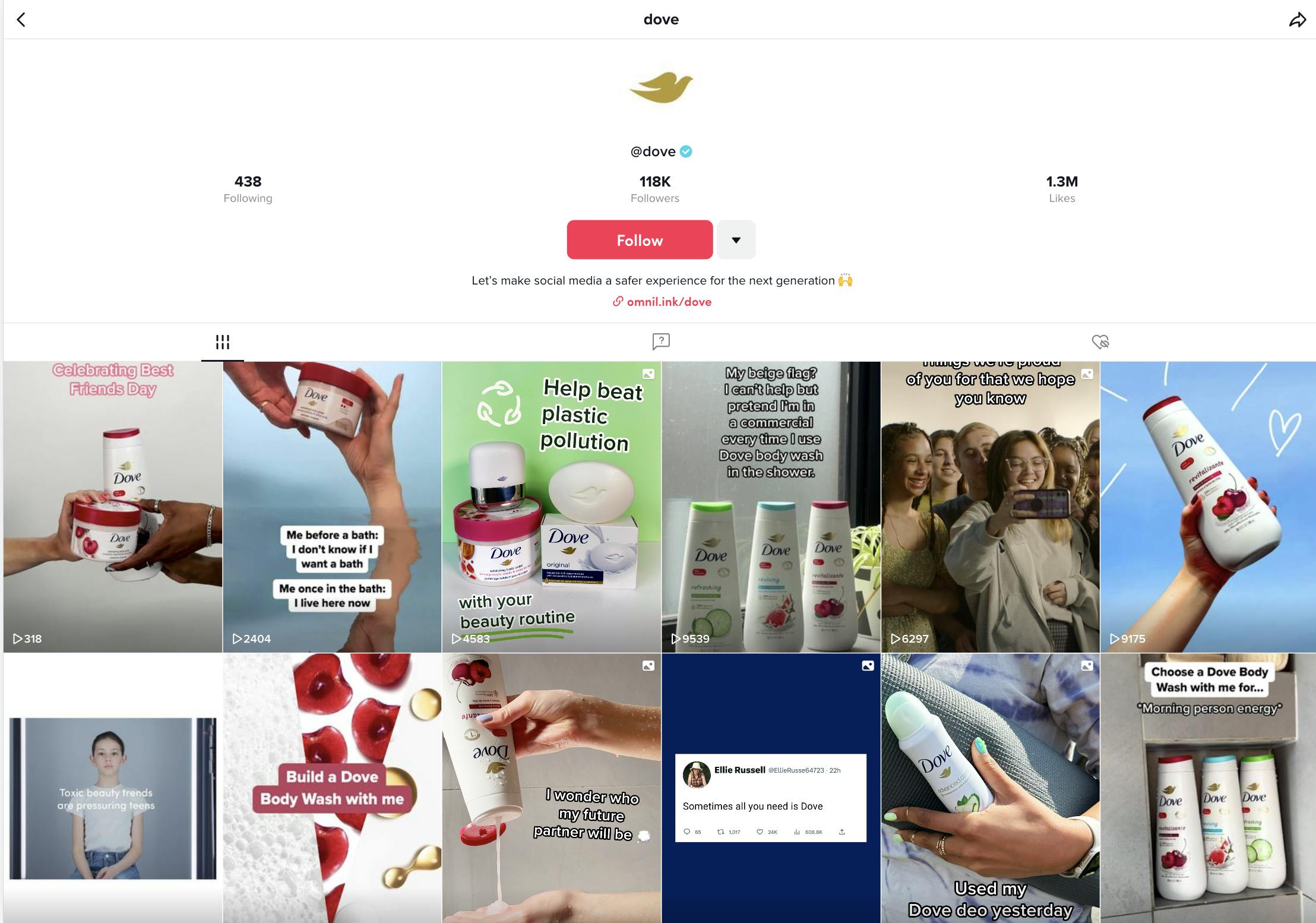 Dove - A household name synonymous with personal care products. Dove has also embraced UGC with open arms. Their TikTok feed is exclusively user-generated content, while their Instagram offers a mix of professional and user-created content. Dove's use of UGC underscores their commitment to real people and real stories.
These examples are just the tip of the iceberg. As you become more aware of UGC and what exactly it is. You'll soon notice that most, if not all, successful brands have invested a huge majority of their marketing campaigns and strategy into UGC.
Creating the Perfect UGC Creator Portfolio
Where you're a seasoned content creator or looking to get into content creation. Crafting an outstanding ugc creator portfolio can become key to landing contracts with brands and establishing a name for yourself in the industry. Here's some tips to help you craft that perfect UGC creator portfolio.
Focus on Content Diversity
All brands are different. And brands are looking for creators who can adapt to their content style and tone to fit their target audience. It's important to demonstrate your ability to work across various content types, platforms, and themes. Some examples might be humorous videos, clothing review, a day in the life, and more. Your portfolio should depict your creative range and your ability to deliver content that speaks to different consumer tastes and preferences.
Capture your Authenticity
Real and authentic content is one of the core elements of UGC's success. Your videos should feel natural, not forced, and give the user an authentic feel. Study popular brand pages and look at the videos they post, look at the ones that perform the best. Do your videos feel the same? Would your video fit right into a brands instagram reels page or TikTok page?
It's super important to feel calm, comfortable and authentic in all of your videos.
Keep your UGC Portfolio Up-To-Date
As you make more content, your content is inevitably going to get better. Make sure you're uploading your latest video and content creations. Trends might change and newer/fresher content is going to stand out.
Remember, your portfolio is more than a collection of your work; it's a reflection of you as a creator. It should tell a story about your creative journey, your skills, and your potential. A well-crafted UGC creator portfolio could be your ticket to exciting opportunities and huge brand deals.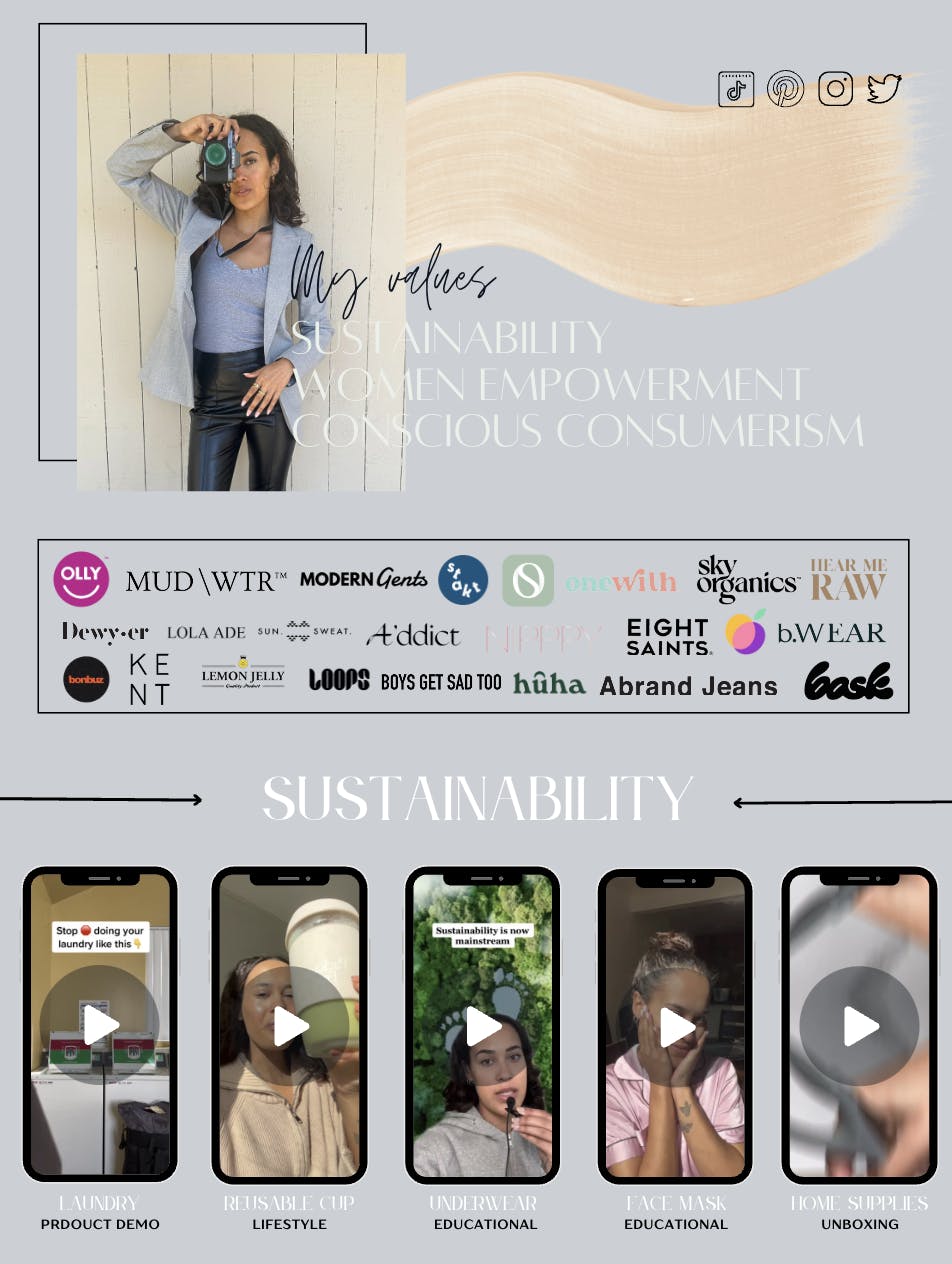 UGC Creator Portfolio Examples
Need some inspiration? We've included a few creators that we know who have profiles across different platforms. It's super important to look at other successful creators and see what they're doing. Observing and learning from these creators can offer valuable insight into their strategy and approach. After all, these are the creators who set the bar and against whom you'll be competing against for brand deals. Let's take a look at a few creator profiles and what we like about them.
https://heavkinz.com/ - HeavKinz
One of our favorite portfolios we've seen. Their site has a sleek design. Has categories at the top of all the different types of content they've made; fashion, apps, pets, lifestyle, apps/tech, etc. And each link brings you to a section with video examples. This is a great user experience for brands who are visiting the portfolio.
https://creatordamon.com/damon-sumner-portfolio - Damon Sumner
Damon has a great site where he includes a lot of different content examples. From humor to street interviews, this portfolio really demonstrates the creators versatility. It also highlights brand highlights, reviews from brands and clearly socials social media links and contact information.
https://ugcbylivv.my.canva.site/ - UGCBYLIVV
Another great example of a clean portfolio with a different list of categories. Olivia's content is easy to navigate, she has a great section about herself, and clearly states her pricing at the bottom of the page.
Essential Elements of your UGC Portfolio
No matter where you decide to host or create your profile. There is some essential elements that every content creator should include in his or her ugc portfolio.
Images / Videos - Sorry, this one is kind of a no brainer. But you want an easy way for brands to see the ugc media that you've created. Highlight your best videos and images. And be sure to include a diverse selection.
Testimonials / Reviews - As you grow, you'll get a lot of great feedback from brands. With their permission, this is great to highlight on your UGC creator profile. Just like UGC offers authenticity to consumers, this offers authenticity to brands looking to work with you. After you've done a successful job, you can reach out to brands and request feedback for you to feature on your portfolio.
TrustUGC is a popular tooled used by creators that integrates with Vidovo to collect testimonials. You can collect testimonials with TrustUGC and display them on your creator profile page or portfolio.
Social Media Links - If you have already had success as a content creator, this is a perfect way to show it off. Make sure that brands can see your amazing social media posts with easy-to-find links to your social media pages.
Tools for Creating Your Portfolio
There are a bunch of tools available for creating your portfolio. Let's take a look at a few.
Wix Website Builder
Wix.com is a great place to build and host your portfolio. It's a cheap option and they have a ton of great portfolio templates for you to check out. This is a popular option and they have been around for a long time with a lot of great brand trust.
Canva
We see a lot of creators use Canva for their portfolio. They have a free website portfolio maker here that allows you to quickly and easily make a portfolio showcasing all of your great content.
Wordpress
For creator's who are a little bit more tech savvy. Wordpress is a great way to build a site + blog + more. It's been around for a long time and there are various marketplaces for wordpress themes. This one might take a little bit longer than some of the other options, but the customization is endless. There are huge businesses built on top of wordpress and you have a lot of customization options for SEO, theming, and more.
43% of the web is built on WordPress websites. It's definitely not a bad choice!