User-Generated Content: A Game-Changer for Amazon Sellers
Jun 7, 2023
On a Tuesday afternoon, Sarah is curled up on her couch, all of her attention is on her tablet. She's navigating Amazon, shopping for a brand new pair of hiking boots to accompany her on her next outdoor adventure. Among the hundreds of options, she navigates to a random product. Then, she discovers something refreshingly genuine amid the infinite online shopping options - user-generated content (UGC) in the form of video testimonials from customers just like her.
In these raw, honest snippets, she finds the voices of real life people, their joyful recounts of miles treaded, and the boots lasting durability and comfort. She watches, connects with the creators, and is convinced. Trusting these fellow hikers, she places an order for the hiking boots.
Imagine if the brand hadn't leveraged user-generated content on their product page, they would have lost Sarah - a valuable potential customer - to the vast sea of competitors that often comes with online shopping. Don't overlook the power of UGC, it might just be the key factor that influences your customers' final buying decision. The final push to click that "Buy Now" button.

What do the statistics say?
Video content is super important, some interesting statistics to consider:
A recent study shows that as many as 91% of consumers want to see more online video content from brands.
92% of video marketers in 2023 say video gives them a good ROI
Nearly eight out of every ten users have made a purchase after having watched the brand's video

How to Take Advantage of UGC on Your Amazon Seller Page
If there is one thing every Amazon seller knows, it's that establishing a strong presence on the platform is king. On such a busy platform, cutting through the noise of competitors and building brand trust is the only way to make it big. 
How do you build trust in a business? It starts with legitimacy, honesty, and strategic thinking. 
What is this "user-generated content" (UGC) we keep talking about? Whether or not you have heard of the name before, you have probably already seen UGC in action. Every unboxing video, glowing review online, or Instagram story tagging a brand is a form of user-generated content. And, it might be the piece missing from your Amazon seller shop, stopping it from reaching its full potential for success. 
Turn your customers into advocates with UGC to build trust while enhancing the brand's credibility and visibility.
Why UGC is Critical for Your Amazon Listing
As a cost-effective marketing strategy, brands across the globe are leaning into what UGC has to offer. Changes in consumer behavior and expectations have opened the door for a new kind of marketing — buyers are looking for authentic and personalized experiences, and UGC caters to this demand perfectly. 
UGC-style videos and images add credibility to your Amazon listing, making it more appealing and trustworthy to potential customers.
If you are an Amazon seller wondering how to start UGC, implement these steps in your next marketing initiative:
Make it easy for customers to add videos to your Amazon listing or share pictures of your product in action. 
Actively request customers to share their experiences and feedback with user-generated content examples.
Run a campaign asking customers to share their unboxing videos or product usage videos (creating fresh and authentic content for your brand while boosting engagement).
Hold a competition with a small prize win for the best video.
Offer a 10% off discount code for everyone who shares a UGC piece of content.
Who can upload UGC videos on Amazon?
Luckily for you anyone with an amazon account who has spent more than $50 can upload videos onto Amazon. They are not required to have purchased the product directly from Amazon. This makes it easy to work with UGC creators directly to receive honest and high quality reviews on your amazon product listing page.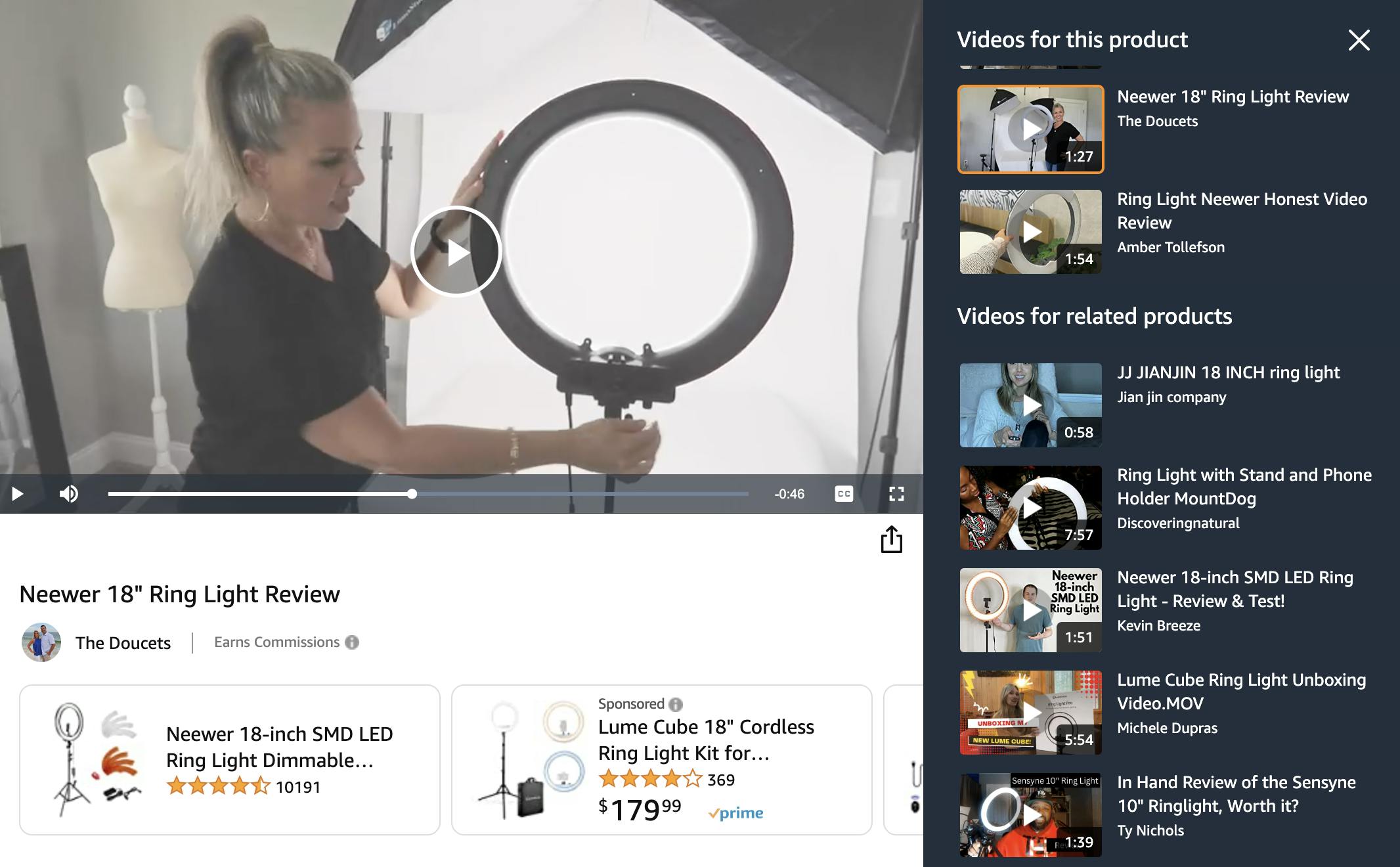 Examples of Effective UGC on Amazon
Amazon content creators are becoming more innovative by leveraging UGC in more advanced ways. For example, customer reviews supplemented with images are more effective than media-free reviews, and videos showcasing the features and benefits of the product trump lower-quality clips. 
Compelling examples of user-generated content should help potential buyers better understand the product and make an informed purchasing decision.
A relatively new feature on Amazon allows brands to share lifestyle images and videos in a similar way to social media posts. As this game-changing feature is still underutilized by many sellers, why not embrace this golden opportunity to stand out from the competition?

How to Get Started on UGC
Take the first steps towards UGC by identifying your most loyal customers. Reach out with a message encouraging them to share their product experiences, and you might be surprised by how happy people are to share their support (but offering incentives always helps!). Or, collaborate with influencers who have a substantial following and can create engaging content for your brand to reach a wider audience.
As the key to effective user-generated content marketing lies in authenticity, it's important not to curate or control the content too much. Letting your customers express their genuine feelings about your product will create a more trustworthy and relatable image of your brand, ultimately driving more conversions. Using a service to implement UGC for your Amazon page simplifies the process, and maximizes the impact.
Getting the Most From UGC
Tap into the power of UGC for your Amazon listing with an expert service. Vidovo helps you navigate the world of UGC, providing expert guidance and support at every step of your UGC journey. We can assist you in strategizing, creating, and optimizing your UGC for the highest impact.
Our UGC Services at Vidovo
At Vidovo, we know how to use UGC to transform your Amazon selling journey. We have a deep understanding of Amazon's ecosystem and UGC expertise, making us an ideal partner for Amazon sellers who are curious about maximizing their potential through UGC. 
Vidovo UGC services include:
UGC Strategy Development: We will work closely with you to create a customized UGC strategy that aligns with your brand vision and business goals. This strategy will cover everything from identifying potential UGC creators to deciding the type of content to encourage.
UGC Creation and Optimization: We will help you encourage the creation of a UGC that resonates with your target audience and showcases your product's best features. Ensuring this content is optimized will boost visibility and conversions on Amazon.
UGC Monitoring and Management: User-generated content must be effectively managed to ensure consistency and quality. We will help monitor and manage your UGC, ensuring it aligns with your brand voice and meets Amazon's guidelines.
UGC Promotion and Outreach: Finally, we will help promote your UGC to reach a wider audience. This could include featuring the content in your Amazon listing, sharing it on social media, or even collaborating with influencers to get the word out.
Don't Miss Out on Amazon UGC
As the importance of authenticity and customer engagement in marketing increases, UGC is no longer just a nice-to-have; it's a must-have for any brand. Amazon sellers can benefit immensely from UGC due to the platform's customer-centric nature and vast user base.
User-generated content is not just a passing fad — it's here to stay. Make the most of this powerful tool and build authentic relationships with your customers, increase credibility, and ultimately, boost sales.